Photo by Eric Tadsen
Poppy Wallman brings it all home
Poster by Gordon Ranney
Remember Luther's Blues? Yeah, we played there.
Poster by Gordon Ranney
Angel is the band, I believe
Photo by John Urban
taking in the back room of the Pizza Hut that was on State Street in the late 80's. What is it, a clothing store now?
Mayor Dave Proclaims Gomer Day!
To be FEB 1 in Madison, WI. Mayor Dave is cool.
Poster by Gordon Ranney
Clyde played 2 shows in a row with us - what a super hero!
High Noon Dance Party
The Gomers funk it up for the Forest in a benefit for the Ceiba Rainforest Foundation. We took rock songs & funked 'em way up (as you can see, here w. the Phat Function horns). Sorry you missed it - f'ing awesome set!
Zombeatles in New York City
Undead at the Parkside Lounge
Poster by Gordon Ranney
Milwaukee version of Rockstar Gomeroke
Biff Shreds on his steam fiddle
notice the cool shirt
Poster by Gordon Ranney
we won
Unused Gomerica Art
captures several themes on the album
Poster by Gordon Ranney
there may have been a little blah blah blah
Photo by John Urban
he is a pro photographer now - Urban Studios, I think?
ZOmbeatles Hit New Jersey
right before Hurricane Sandy did
Photo by John Urban
I barely know what to say about this picture
Zombie Girls on the shoot
in the old factory
Dingo Scarr
rocking the skin (s)
Gomers Promo Photo
circa 1994
Gomers Logo
by Gordon Ranney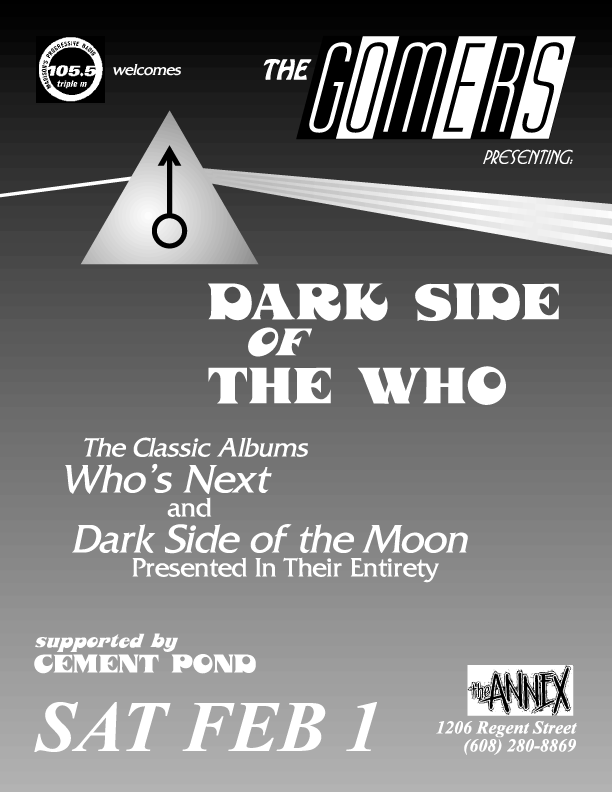 DSOTW Poster by Gordon Ranney
great show, we did it a few times. Pink Floyd and The Who - how can you go wrong?
Gomers @ the Capital
photo by Mike Matheson
Mark Hervey
can POGO for a whole song
photo by Mike Matheson
More Capital hijinx
Mandoblastin'
C clamps add mass
Mike Zirkel the Album
well it's actually a CD
COAGULA
one of the words on Baphomet's arms, it was also an early alter-ego of the Gomers. Avert your eyes lest they bleed and make a gross mess.
Who's Floyd? Poster by Gordon Ranney
excellent show and poster concept
Gomeroke Poster by Gordon Ranney
Klaatu beronik nikto!
Pall Ickartney
One of the Fab Gore gets a little too close
Fab Gore show @ the Abbey
Dolls Of Doom were sexy scary
Sofa King Good
say it real fast. The Gomers' first CD, now available digitally only. A greatest hits is rumored...
Clyde Poster by Gordon Ranney
Meat The Zombeatles
album art by Gordon Ranney
Jaw N'lennon
poses near a surfboard before he spreads the Zombie virus
Gomeroke logo by Gordon Ranney
Geoff Brady
is a mad genius